Hosting a Distinguished Visiting Fellow can be an opportunity to work with eminent researchers who are world class in their field, leading to long lasting relationships to benefit your own career and potential future collaborations for SICSA.  There will be some interesting talks from SICSA DVFs in the near future and this web-page will be updated accordingly.
You can access the full reports from previously funded DVFs on the SICSA report page.
For more information on how to apply for SICSA funding please see the funding webpage.
---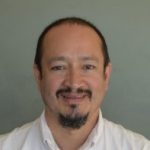 Professor Edgar Chavez is one of the "founding fathers" of similarity and metric search. In 2001 he published, along with Gonzalo Navarro and Ricardo Baeza-Yates, a major survey article[1] bringing together various threads of metric search which were developing independently in various other specialist domains; by 2008 he had co-chaired the first dedicated international workshop, SISAP[2], on the subject; in a further ten years this has become the primary prestigious conference forum for similarity and metric search. He is a very active and highly respected researcher; according to Google Scholar his work has attracted 1,438 citations since 2012, and he has a post-2012 h-index of 16 and i-10 index of 28.
[1] Edgar Chávez, Gonzalo Navarro, Ricardo Baeza-Yates, and José Luis Marroquín. 2001. Searching in metric spaces. ACM Comput. Surv. 33, 3 (September 2001)
[2] www.sisap.org
For more information on his talks please have a look at the SICSA Events Page
Professor Chavez is being hosted by Professor Richard Connor, University of Strathclyde.
---