by Alan Settery, SICSA Cyber Security Network Integrator
Once again the annual Cyber Security Christmas lectures has been a huge success with over 2,600 school pupils having a fun experience in the world of Cyber Security and chocolate!
The 5 day lecture series was held just before Christmas across Scotland at universities UHI – Inverness, RGU – Aberdeen, Abertay – Dundee, Edinburgh and Glasgow Caledonian and is designed to complement the new National Progression Award in Cyber Security are based on: Digital Forensics, Ethical Hacking and Data Security.
It has to be said that this year's event is probably the largest of it's kind in the UK and was a logistics challenge with pupils from 81 schools being co-ordinated and transported (lots of buses!) to and from the events. So well done to all involved and thank you SICSA for kindly sponsoring 5 bus loads of pupils to come who otherwise would not have done so, including one all the way from the borders.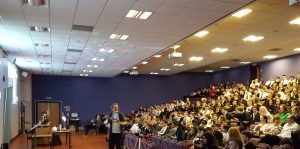 The presentations were exciting, fun, often thought provoking and engaging – tackling a range of areas; from Bill Buchanan hacking and taking control of mobile devices and cameras, Police Scotland raising awareness of on-line cyber crime, Strathclyde / Edinburgh university linking school pupils into a physical "block chain" and Abertay's talk about "a fridge full of spam".  Brian Higgins from ISC2 showed a cyber wheel of fortune game and for the first time the lectures attracted an international keynote speaker – Amalie Wedege from Alpha-zero presented about "Zero days and Stuxnet".  There were further talks about Public key encryption and NCCGroup's discussed 'Why after 15 years of web security was the web not fixed yet?"  All of the presentations were interactive with high energy audience participation – being provided by the numerous chocolate prizes – over the week 55 kg handed out!!!
Media wise, the lectures always attract a large coverage and here are some of the links;
Special recognition is given to Dr Martin Beaton – the main organizer for the event who's motivation is "… helping pupils to understand the risks they face as well as the opportunities available if they choose a career in the sector."
Thanks also to everyone who contributed to make the Cyber Christmas lectures a great success; to the speakers who have freely contributed their time; to the sponsors PwC, CGI, Fujitsu, Scottish Government, Scottish Enterprise, SDS, University of Glasgow (USB wristbands!), SICSA and the hosting universities.
For more information please contact:
Alan Settery
SICSA Cyber Security Network Integrator, University of Glasgow
Email: Alan.Settery@glasgow.ac.uk
Phone: +44 (0) 141 330 4845