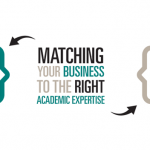 by Heather Alexander, Interface Marketing Manager
27 July 2017
Interface are delighted to be working with SICSA and involved in this year's DemoFest to help promote the great work that is happening in Scottish universities across Informatics and Computer Sciences.
At Interface we connect organisations of all sizes, from all sectors, to the right academic expertise for increased research and development (R&D) activity leading to the creation and development of new products, services and processes.
Business-academic collaborations play a vital role supporting Scotland's economy, enabling businesses to reach new markets, increase turnover and safeguard and create jobs. The impacts on society are far-reaching. Indeed, over the last 12 years the Interface team have facilitated over 2,470 business-academic opportunities, resulting in over 1,420 R&D projects.
Engaging with industry supports universities and academics by helping to; achieve impact with research, provide additional income to fund individuals and department activities, grow contacts and networks relevant to research, introduce students to industry to enhance employability and create commercial opportunities from facilities, equipment and off the shelf technologies.
The majority of organisations seeking academic expertise do so to fill a gap where they do not have in-house expertise. Ecometrica, an end-to-end environmental software-as-a-service (SaaS) company, and their collaboration with the School of Geoscience's at the University of Edinburgh is a great example of this cross-disciplinary approach. The project tested the suitability of different earth observation (EO) satellite products for monitoring forest change both in the UK and Internationally. The benefits to the university will be felt in terms of its international research and innovation ranking, and its reputation in the fields of forest ecology and the application of space technology.
It is not just expertise and know-how services that companies can engage with, there is also a vast range of specialist facilities which can support industry. Hundreds of pieces of equipment and cutting edge facilities are used every day for scientific research throughout Scotland and are widely available for commercial use to help create, develop, test & analyse ideas and products. These specialist facilities combined with the academic and technical expertise are a very valuable solution for commercial business projects. You can see the types of Specialist Facilities that are available for commercial use here.
Interface helps to connect the contrasting worlds of business and academia, fulfilling the roles of translator and impartial broker to make connections which benefit the economy and Scotland as a whole.